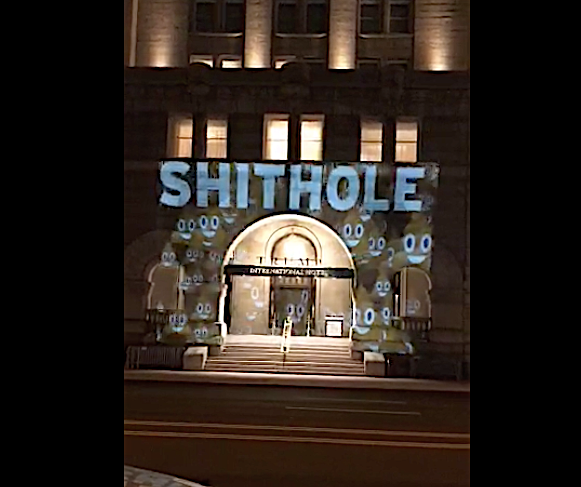 The president reportedly asked "Why are we having all these people from sh*thole countries come here?", referring to Haiti, El Salvador and countries in Africa during a White House immigration meeting.
Trump Hotel in downtown Washington DC got a little makeover last night.
The Trump International Hotel in Washington, D.C.is now on the receiving end of a wave of bad reviews, dropping its score on review website Yelp down to two stars.
But on Saturday, the phrases "S--HOLE" and "THIS PLACE IS A S--HOLE", along with emoji of poop, were projected onto the entrance of the Trump hotel.
The videos were posted on the Twitter account of Robin Bell, who has staged other projection protests and been likened to a "hit-and-run editorial writer" by The Washington Post.
"This is not normal", a segment of the display read, along with messages to "stay vigilant" and "#resist".
Jon Gruden and company reload
There were several conversations between those requests, most of which were counseling sessions on how to get the Raiders right. The defense hadn't started clicking at that point in time, so I just wanted to know if he had some input for me.
Trump on Friday tweeted a convoluted denial about the comments, which were reported by The Washington Post and The New York Times.
The man behind it was Robin Bells, whose Twitter bio describes him as an "award-winning editor, video journalist, and multimedia artist based in Washington DC". Also projected on the building were things like "pay Trump bribes here".
Trump is said to have made the remarks - which he has denied but which a US Senator who was present confirmed - at a meeting with legislators, setting off a firestorm of criticism when they became public.
Rep. Cedric Richmond (D-La.), the chairman of the Congressional Black Caucus, said in a statement that Trump's alleged remarks were another "confirmation of his racially insensitive and ignorant views".
"You can not dismiss entire countries and continents as 's***holes, ' whose entire populations, who are not white, are therefore not welcome".