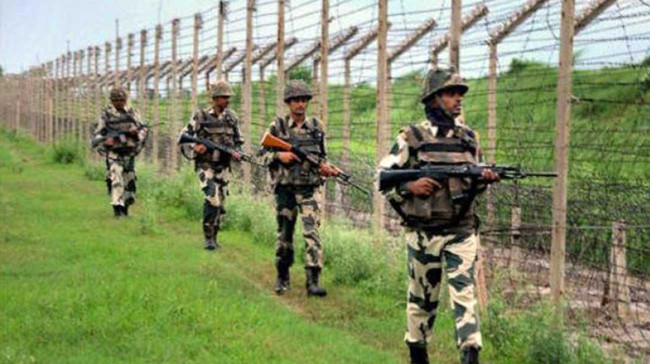 The cross-border firing by Pakistan army that killed a major and three soldiers at Keri in J&K's Rajouri sector on Saturday came towards the end of a year that saw over 780 ceasefire violations by Pakistan along the 778km Line of Control and 120 along the 198km global border.
An army spokesperson identified the slain soldiers as Major Moharkar Prafulla Ambadas, Lance Naik Gurmail Singh, sepoys Pargat Singh and Gurmeet Singh, who belonged to 120 Infantry Brigade. Two other personnel also sustained injuries and are under medical treatment.
Vowing to avenge the killings, the Indian troops swung into action to silence the Pakistani guns.
The Indian Army said in a statement on December 23 that Pakistani forces fired on Indian posts in the Rajouri sector, calling it an "unprovoked cease-fire violation".
"One major, three soldiers got killed in cross border firing by Pakistan troops in Bhimber Gali area of Keri sector on Saturday afternoon at around 1215 hours", official spokesperson here said.
Amber Tamblyn Responds to Rose McGowan's Criticism of Black Dress Protest
McGowan took issue with Streep then too, sharing an article on Twitter and wrote, "No, Meryl, IT'S A F--ING CRIME". McGowan previously received a hefty payout from Harvey Weinstein to keep quiet about what had happened to her.
Major Moharkar Prafulla Ambadas, aged 32 years, belonged to Bhandara district in Maharashtra and is survived by his wife Avoli Moharkar. Lance Naik Gurmail Singh aged 34 years, belonged to District Amritsar, Punjab and is survived by his wife Smt kuljit Kaur and a daughter.
"They were fearless and honest soldiers".
Anger has swept across the state, with the BJP warning of another surgical strike. "Pakistan will have to pay a heavy price for it", said Ravinder Raina, BJP MLA from Nowshera. Since January 2017 till date, more than 880 incidents of ceasefire violations have been reported along the LoC and the International Border in J&K in which over 30 people were killed and thousands of border residents relocated to safer places.
Almost 30 people, including 14 Army personnel, 12 civilians, and four BSF personnel were killed in these ceasefire violations this year.
India shares a 3,323-km-long border with Pakistan of which 221 km of the IB and 740 km of the LoC fall in Jammu and Kashmir.