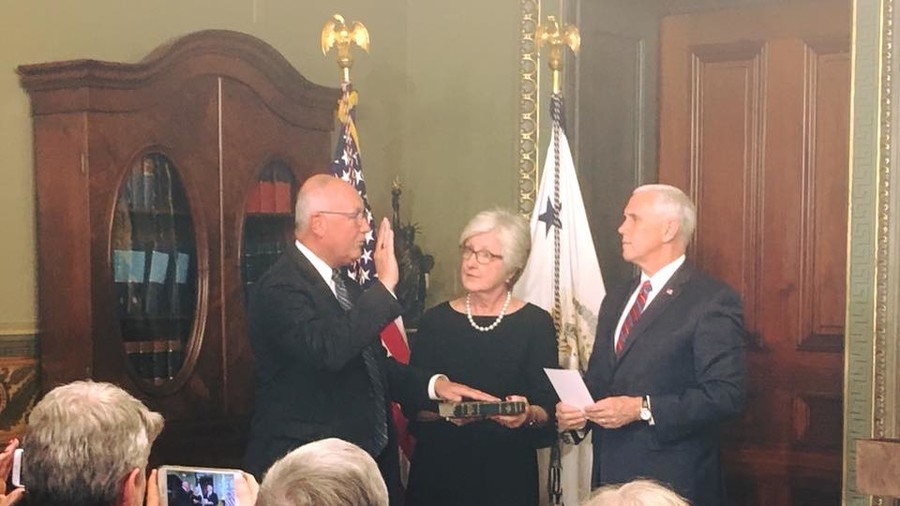 The US ambassador to the Netherlands faced an excruciating moment on television when he denied ever saying that there were no-go zones in the Netherlands, calling the suggestion "fake news".
Pete Hoekstra, who takes up his position in January, was being interviewed for Dutch current affairs show Niewsuur when he was asked to explain his past remarks about cars and politicians being set on fire in the Netherlands and the sprouting up of Muslim no-go zones.
The reporter questioned him about "no go zones" in the Netherlands and the claim that "cars are being burnt". A former House Intelligence Committee Chairman, Ambassador Pete Hoekstra was even born in the Netherlands, but that's not smoothing things over for the conspiracy theory promoting anti-gay, anti-choice, anti-Islam religious right Tea Party Republican.
When Wouter Zwart of CNN affiliate and Dutch broadcaster NOS asked about those comments in an interview in the US Capitol, Ambassador Hoekstra said he never said them.
President Trump's new U.S. ambassador to the Netherlands just got caught in a lie, and tried to use the phrase "fake news" to get out of it.
Hoekstra is then shown clips of him speaking at a 2015 panel discussion titled "Muslim Migration into Europe", in Charleston, South Carolina.
The clip of the encounter between Zwart and Hoekstra then cuts back to the reporter as he says, "You called it 'fake news'".
"And yes", he continues, "there are no-go zones in the Netherlands".
Alex Guerrero: Tom Brady Trainer's Team Privileges Reined In
He's also banned from traveling with the team, and the only player he can treat at Gillette Stadium is Brady . MA state regulators also stepped in when Guerrero began doing business with Brady at the TB12 Center.
"I didn't say that, that is actually an incorrect statement", Hoesktra insisted.
Mr Hoekstra: I didn't say that.
A USA ambassador has been caught out on a "fake news" claim about the Islamic movement in Europe.
Hoekstra described the claims as "fake news", but the evidence that follows seems to show to the contrary.
Mr Hoekstra: No. I don't think I did. "I didn't use the words today", Hoekstra said.
During his time in Congress, Hoekstra tried to claim that weapons of mass destruction were found in Iraq and ordered the creation of an online archive that ended up posting documents that could serve as a guide to building a nuclear bomb.
A U.S. State Department spokesperson told us that the department had no comment.