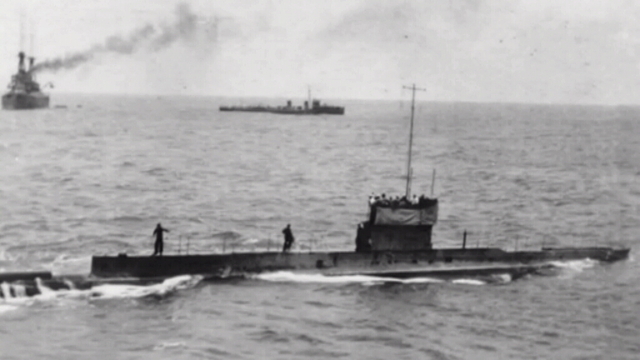 AE1 has several historical distinctions: it was Australia's first submarine, and it was the country's first submarine to be lost in war - and it was also the first Allied submarine lost in the war. No distress calls were issued, nor were there any witnesses to the scene.
Radio scans show the outline of the HMAS AE1, found off the coast of the the Papua New Guinea island of New Britain.
"The loss of AE1 in 1914 was a tragedy for our then fledgling nation", Defence Minister Marise Payne said.
The AE1 made final contact with an Australian ship at 2.30pm the day it disappeared.
Survey data showing HMAS AE1 on the sea bed.
The submarine, which had only been in service for seven months, was captained by Lieutenant Commander Thomas Besant, a 30-year-old British officer who had been seconded from the Royal Navy.
The exact cause of the sinking remains unclear, but as Sky News reports "it has always been assumed it was not a victim of enemy action, since the only German vessel nearby at the time was a small survey ship".
Construction for AE1 started in 1911 and she was commissioned in Portsmouth, England in February 1914.
Facebook challenges music streaming giants with Universal Music deal
Before anything like that, though, there'll be support for sharing music and music videos with other social network users. A few weeks ago, Apple revealed that several of Facebook's products made it to the Top 10 Most Download Apps of 2017.
AE1 joined naval forces assigned to the capture of the German Pacific colonies and with AE2 took part in operations leading to the occupation of German New Guinea - the northeastern part of the island of New Guinea.
To remember both vessels and crews, brass commemorative plaques were dedicated in a ceremony at the Australian War Memorial in Canberra in 2014.
In early November, the government slung AU$500,000 towards the latest of 13 expeditions to search for AE1 in the 103 years it's been missing, and this time, the search was successful.
Ms Payne said the Australian government was now trying to contact descendants of those killed on board.
Payne said she hoped the discovery would help investigators establish the cause of the sinking.
Along with the government of Papua New Guinea, Australia is devising a plan to preserve the site and create a lasting, meaningful commemoration.
The search was jointly funded by the Australian government, the Australian National Maritime Museum and two maritime history organisations.